Artist Information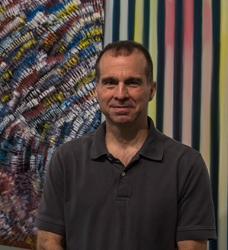 Richard Melvin's academic degrees: Robert Morris College, B.S./B.A. Management, 1984. Edinboro University of Pennsylvania: M.A. in Painting, 1989. M.F.A. in Sculpture, 1992.
In addition to the visual arts, I have acted in, directed, edited and produced films. In 2006 I was featured in a 32 day 'live in' performance/installation art event. I am currently working on a documentary investigating Parkinson's disease which spans 640 science articles, photographs and musical credits. After 3+ years of continuous work, it will be finished this year (2015).
I am an avid collector of music and own 1,400 CDs. I enjoy cooking and learning new skills (unrelated to cooking!). Independently I learned how to update the content of this website.